[cs_content]
Adrian Esposito, Kristina Nomeika (WNY)
Diffability Hollywood
Documentary
Thurs 11/2 – 6:45 pm
Professor Elie Noujain
You Go To My Head
Fri, 11/3 – 12:00pm
Julianne Donofrio (NYC)
Pieced Together
Documentary
Fri, 11/3 – 2:45pm
Greetings from Tromaville
Documentary
Fri 11/3 – 7 pm
Zac Amico
Return to Return to
Nuke Em High aka Vol. 2
Fri, 11/3 – 9:30pm
Jeremiah Kipp (NYC),
Joshua Kaufman
Slapface
Fri, 11/3 – 9:30 pm
Chris Parish (IL)
Thrill Ride
Family
Sat, 11/4 – 11:30 am
The Wright Kids (WNY)
A Boy Named Sue
Young Student
Sat, 11/4 – 11:30 am
Jillian Lebling
Sleeptalker
Young Student
Sat, 11/4 – 2 pm
Jeff Strand (Atlanta)
The Greatest Zombie Movie Ever!
Sat, 11/4 – 2 pm
(on behalf of Highland High School in Palmdale, California)
Brett Kelly (CAN)
Countrycide
Sat, 11/4 – 2 pm
Jim Klock, Chad Ridgely
666 PM
Sat, 11/4 – 5 pm
Devi Snively (OH)
Bride of Frankie
Sat, 11/4 – 5 pm
Matthew Currie Holmes (L.A. / CAN)
Buckout Road
Sat, 11/4 – 7:30 pm
Sebastian Godin (CAN)
Ghoulish
Sat, 11/4 – 9:40 pm
Brandon Lane, Kimberly Perosona (CAN)
Princess Sparkly Butt and the Hotdog Kid
Sun, 11/5 – 11:30 am
Sebrina Pena Young (WNY)
The Pearl of Tia Megdelena
Sun, 11/5 – 1:20 pm
Murder Zone
Thurs, 11/9 – 9:30 pm
Mick Thomas, Tim O'Hearn (WNY)
No One Has to Know
Sun, 11/5 – 1:20 pm
Rick Masi (WNY)
Tales of Darkened Light: A Friendly Wager
Sun, 11/5 – 1:20 pm
Karl Holtz
Filling in
Sun, 11/5 – 1:20pm
SPECIAL GUESTS
Paige K. Davis
Camp Motion Pictures

Michael Gingold
Author/Horror Journalist
James Felix McKenney, Lisa Wisely (NY)
Candyland
Sun, 11/5 – 3:00 pm
Jon Keeyes, Michael Tompkins (CO/L.A.)
The Harrowing
Sun, 11/5 – 3:00 pm
Fred Olen Ray (L.A)
Hollywood Chainsaw Hookers
Sun, 11/5 – 8 pm
Chris Olen Ray (Burbank)
Circus Kane
Sun, 11/5 – 9:45 pm
Jerry Landi (NYC), Dana De Rose,
Bob Connely
Hablar Con Los Muertos
Mon, 11/6 – 4:10 pm
Brian Darwas, Jennifer Carchietta (NYS)
Get My Gun
Mon, 11/6 – 9:25 pm
Brendan Steere, Kathy Steere (L.A.)
VelociPastor
Tues, 11/7 – 8:45 pm
Ruth Reynolds
Walk of Shame
Mon, 11/6 – 9:20pm
Skip Shea (MA)
Trinity
Wed, 11/8 – 12 pm
Keith Lukowski, Larry Saunders (WNY)
Good Times Never Come
Wed, 11/8 – 7:10 pm
Joe McReynolds, Gene Bautista
Ford Austin
Six-Pack Sam
Wed, 11/8 – 9:30 pm
Ryan Nelson and Beth Levy Nelson
Mercy Christmas
Thurs, 11/9 – 5:20pm
Black Fawn Films, Players TBN (CAN)
The Heretics
Thurs, 11/9 – 7 pm
Andy Michalski (WNY)
Punch Andy
Thurs, 11/9 – 9:30 pm
Alexandra Lynn Kopsidas (Syracuse)
Hunted Prey
Thurs, 11/9 – 9:30 pm
Jon Ferrari, John Renna (WNY)
In the Deathroom
Thurs, 11/9 – 9:30pm
Aceifer Phoenixx, Fawn Phoenixx (WNY)
The Outlaw 777
The Death of Sixx
Thurs, 11/9 – 9:30pm
Torin Langen (CAN)
3 Dead Trick or Treaters
Sat, 11/11 – 12 pm
Nick Pusic (CAN)
Daddy's Girls
Sat, 11/11 – 12 pm
Derek Lukosius (CAN)
The Lone Paddler
Sat, 11/11 – 2 pm
Writer-director Ryan M. Andrews, star Ry Barrett, Producer Chris Cull, Cinematographer Michael Jan Davidson (CAN)
Art of Obsession
Sat, 11/11 – 4 pm
Richard Rowntree (UK)
Dogged
Sun, 11/12 – 6:30 pm
50 Visitors
12 WNY
Chad Archibald directed, co-produced, and wrote the original screen story for Black Fawn Films' Bite, the Opening Night Feature for Buffalo Dreams this year. Bite had its world premiere at the Fantasia Film Festival, where it generated a tremendous amount of buzz, and we are proud to bring this terrifying story of body horror to our festival patrons. The Buffalo premiere of Bite is not to be missed!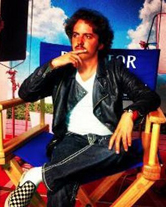 Isaac Ezban returns to Buffalo Dreams for a special retrospective of his work, including his short film Cosas Feas ("Nasty Stuff") which screened at Buffalo Screams Horror Film Festival, and his critically heralded debut feature, EL Incidente/The Incident, which is received our awards for Best Director, Best International Feature and Best Science Fiction Feature. In addition, Isaac received our highest honor for a filmmaker, the George Pal Visionary Award. We are proud to give Buffalonians another opportunity to experience these extraordinary films on a big screen.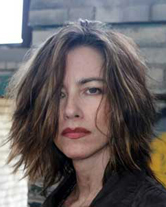 Debbie Rochon is well known for her impressive body of work as an actress, including appearances in over 200 independent films. She is well known to Buffalo horror fans, having appeared in several films produced here, including Slime City Massacre, Dry Bones and The Legend of Six Fingers. Now she returns in a new role: as the director of Model Hunger, a horror thriller starring Lynn Lowry and Tiffany Shepis, filmed in Buffalo! Debbie will be on hand for the film's Buffalo premiere.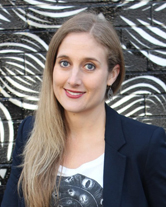 Megan Riakos makes her fist trip to Buffalo Dreams, all the way from Australia, to screen the outstanding mystery thriller Crushed. Megan Riakos is a Screenwriter and Director with a passion for telling stories that engage and provoke. She recently completed her debut feature film Crushed, a mystery thriller set in a vineyard. Her short films range from the psychological thriller The Shed to the 1930's crime drama 50-50 and even an experimental dance film The Eye of the Beholder. Her tastes are eclectic but it is the love of telling a good story no matter the genre that attracts Megan the most.
Megan earned her Bachelor of Arts in Communication (Media Arts and Production) at University of Technology Sydney (UTS). She completed both a Graduate Certificate in Screen Drama (Writing and Directing) and a Graduate Diploma in Directing at the prestigious Australian Film Television and Radio School (AFTRS). During 2012-13, she also completed the Professional Screenwriters Program at UCLA.
Megan will be releasing her feature Crushed in 2015 and is currently in development on her second feature.
Mike French is the writer-director of the baseball film Pete's All Stars, and he is visiting us from San Francisco. Born and raised in Orinda CA, Mike French has had a passion for filmmaking his entire life. After dropping out of film school to pursue a writing opportunity adapting the non-fiction book "The Warrior Elite" by Dick Couch, Mike worked at several production companies in Hollywood before finally returning to the Bay Area in 2007. After finishing film school at the Academy of Arts in San Francisco and acting in the independent short film "The Bridge" in 2010, Mike embarked on making "Pete's All-Stars," his first feature film. In addition to assuming the directing duties, Mike also wrote the screenplay and acted in the film.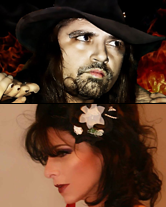 Buffalo filmmakers Aceifer and Fawn Genovese co-write, co-direct and co-produce The Outlaw: The Living Comic Book, an ongoing film series available on Amazon about Sixx, a cast out demon fighting the forces of evil on Earth. The films combine heavy metal music, erotica and action in a manner best described as experimental. Every time we have screened a new installment, the audience has gone bananas over it!
Paige K. Davis, Director of Business Development for Alternative Cinema/POP Cinema Studios, one of the leading distributors of indie genre films, returns as our guests again, and AC as our sponsor. Paige has acquired several films that screened at our festival. This is a chance for filmmakers to speak to her ace to face, one on one, about their projects, and to ask her about the marketplace.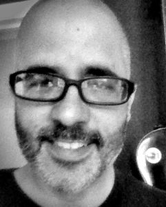 Horror novelist Anthony Izzoserves served as the judge of our Original Unproduced Screenplay competition. Please follow Anthony at: http://www.anthonyizzo.com/
[/cs_content]