DEADLINES
The Regular Deadlines for film/screenplay submissions to Buffalo Dreams Fantastic Film Festival are as follows:
September 15,2020 – Opening Date
January 1, 2021 – Earlybird Deadline
July 11, 2021 – Regular Deadline
August 25, 2021 – Late Deadline
 September 15, 2021 – Extended Deadline
October 1, 2021 – Notification Date
November 5 – 11, 2021 – Event Dates
FILM SUBMISSIONS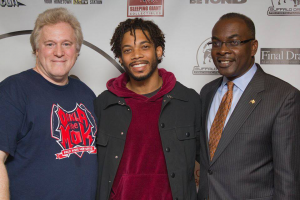 We want to see fresh, exciting new films from up and coming talent from all around the world.
Buffalo Dreams Fantastic Film Festival has multiple categories which encompass Science Fiction, Fantasy, Horror, Action (including martial arts), Thriller, Cult, Animation and Fan films. We require two DVDs or Blu-rays of each submitted work, clearly labeled with your film's title, running time, category and country of origin, along with a copy of your submission form.
Screeners will not be returned. Multiple submissions must be submitted separately.
If your film is selected for screening and includes a disclaimer watermark, you must provide us with two copies without the watermark for screening.
Final screening copies will not be returned unless a pre-paid envelope is provided. Final screening copies must be on DVD or Blu-ray. Any film of any length produced in Western New York that is accepted in any category will automatically compete for Best Western New York Genre Film.
We want our local filmmakers to bring their best game. International Films must be subtitled in English or dubbed in English, and must be submitted in U.S. compatible formats.
SCREENPLAY SUBMISSIONS
Buffalo Dreams Fantastic Film Festival strongly believes screenwriting is the foundation upon which every successful film must stand. Our Unproduced Original Screenplay Competition is open to feature length screenplays only (80 pages and up). We are open to all genres. 
In 2017, Buffalo Dreams introduced the Lois Weber Award, named after the first female filmmaker in the U.S. Weber directed 135 films, wrote 114, and acted in 100. She was the first female filmmaker to own a production studio in this country, and is credited with creating the split screen technique and shooting directing the first sound film. The Lois Weber Award is designed to spotlight contemporary women in film.